Who hasn't signaled aliens while trying to decrypt a pay-per-view adult channel?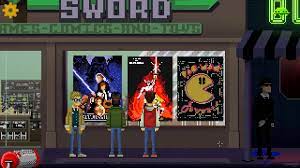 8 bit point-and-click adventure, Unusual Findings, is not only showcasing a brand new trailer, but also revealing its Kickstarter stretch goals: the game is set to be brought to consoles, including Nintendo Switch, Xbox Series S/X and Playstation 4 and 5.
 
Having reached the halfway point of its funding and with 16 days left on Kickstarter, Epic Llama Studios are also revealing additional community-led targets: a figurine of Ralph, one of the game's memorable characters, as well as a physical boxed edition of the game.
Set in the 80's and inspired by genre classics such as Monkey Island, Day of the Tentacle and Sam & Max Hit the Road, Unusual Findings sees players join three teenagers – Vinny, Nick and Tony – as they uncover mysteries in their hometown.
Whilst trying to decrypt a pay per view adult channel (as you do), they pick up the distress signal from an alien spaceship that's crash-landed in the woods near their town. Things only get weirder as they realize that the towering alien has begun killing members of their community.
With a non-linear plot that that's unique for the genre, pixel-perfect art, and fully voice acted, it's time to go back to a simpler era where mix tapes were a thing, Commodore 64 was king, kids could play outside late at night and the only thing to worry about was THE GIANT KILLER ALIEN TRYING TO GET YOU AND YOUR FRIENDS.
The full version of Unusual Findings is set to launch on Steam in winter 2021. If you're ready to dive in right away, you can jump into the demo right now on Steam. Consider heading over to the Kickstarter page to back the project and keep up with all updates on the game.
Key Features
A classic 90s-inspired point-and-click adventure with retro 80s style
Stylish (and stylized) pixel-art with modern shader and lighting effects
Fully voiced dialogue without the hassle of installing a dozen floppy disks
True old-school puzzle design. Mash together every item in your inventory
An authentically retro synthwave soundtrack for the 80s Hollywood flavor
A cast of charming and memorable characters and three playable heroes
No pixel-hunting – reveal all interaction hotspots with a handy assist mode
About Buka Entertainment
Buka Entertainment was founded in 1994 as video game and console distributor. Since 1996 Buka has also been known as a publisher. Over the years of successful publishing Buka released dozens of projects onto the world market, such as Hard Truck, Pacific Storm, Ex Machina, Pathologic, Collapse, Red Comrades, 9 Monkeys of Shaolin, Darkestville Castle, Redeemer, Ash of Gods and others, many of which have rightly become classics.

Today Buka Entertainment continues to publish video games and support developers from all over the world. Company ports and releases titles for PC, PlayStation 4, Xbox One and Nintendo Switch as well as iOS and Android. Due to the professionalism of its team and comprehensive approach to the video game publishing and marketing Buka Entertainment successfully develops relations with international partners and will continue to bring exciting high-quality projects to the players in the nearest future.