The survival management game by FlyAnvil is coming to Steam in early 2022
Nordcurrent and FlyAnvil released today a new gameplay trailer for the apocalyptic action RPGDecision: Red Daze, which is set to release on Steam in early 2022. This trailer showcases the core gameplay elements of the game as well as complementary features like squad management and tower defense. Explore the wasteland known as the Dust Bowl for survivors to band together and fight back a nightmarish disease known as the Red Daze. Recruit other survivors to your squad, build communities and defend these safe havens against endless hordes of zombies and mutants with tower defense mechanics in the hopes of eventually finding a cure for the disease.
ABOUT THE GAME
Decision: Red Daze is an isometric Action RPG with a unique blend of survival and tower defense mechanics. The Red Daze is a nightmarish bacterial infection that has plagued the continent, leaving behind death, destruction and horribly mutated monsters in its wake. Small bands of survivors exist, and they are the only hope of humanity. You must recruit these survivors, band together and fight off this dangerous disease and reclaim the planet. Danger is always present as you explore the world as you fight off hordes of zombies, mutants and other terrible creatures that will try to kill you on sight.
Decision: Red Daze is set in the Dust Bowl —a region rife with blistering heat and dust. These weather conditions allowed for the Red Daze to become airborne which now threatens to engulf the entire continent in it. The Red Daze has shaped the world and human history for millenia, with governments and world powers constantly at each other's throats. It now falls into the hands of groups of survivors, soldiers and scientists to find a way to stop the propagation of the red daze.

You are one of these survivors, the last man standing of a unit from a militia known as the Bears. Another group of survivors saved you after your entire unit was slaughtered in the Dust Bowl. After joining up with them and offering your skills and experience, you have your new mission —build a safe haven and defend it against the encroaching hordes of zombies and mutants. As you explore the wasteland for resources and supplies, you are able to find and recruit more survivors as well. Perhaps you can work with your group to find a way to push the Red Daze back.
Sometimes, the future of the entire human race rests in the hands of one man. This time, those hands might just be yours.
KEY FEATURES
Experience a unique blend of action roleplay, survival, and tower defense mechanics that will keep you at the edge of your seat.
Explore a huge map in search of new allies and valuable resources: anyone you find out there is a potential hero!
Adapt to a day and night cycle system that changes the gameplay experience.
Clear out and capture new potential settlements and upgrade them to grow your community of survivors.
Build defenses in your settlements to keep them safe from the endless waves of enemies.
Find potential heroes with their own specialized classes and talents to recruit, so they can join you every time you go outside to explore.
Try a wide selection of brutal weapons to mow down your enemies.
Trade with vendors to find equipment and supplies to better equip your squad and settlements.
Push back the red daze by upgrading your repellers and defeating the alphas that send out raiding parties against your settlements.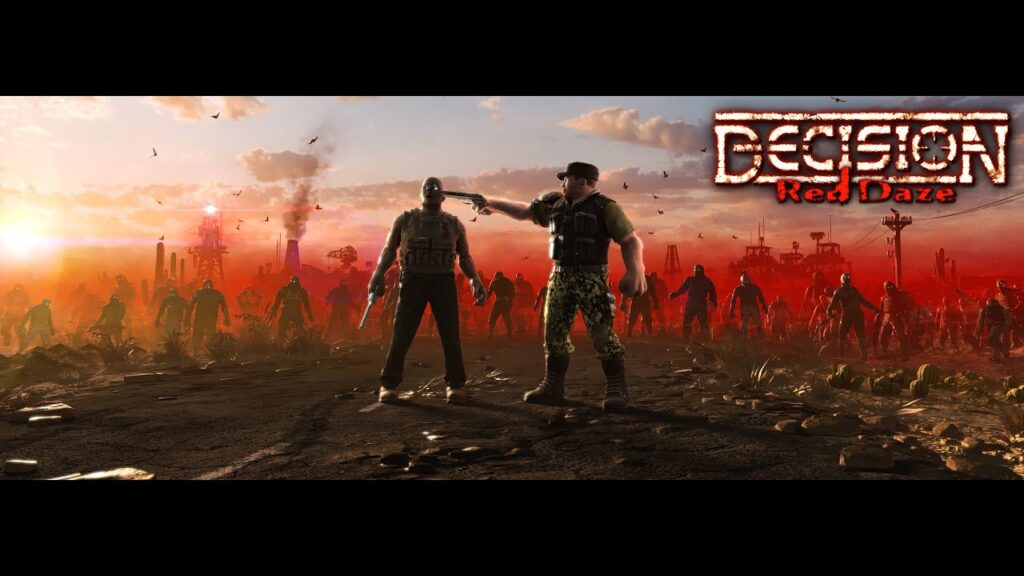 CONTACT INFO
 For more information, you can reach us at media@nordcurrent.com and info@jaleopr.com
Follow Decision: Red Daze on social media:
ABOUT NORDCURRENT
Nordcurrent is a developer and publisher of games for smartphones, tablets, laptops and PC which was established in 2002 with headquarters in Vilnius, Lithuania. Nordcurrent has two development studios in Vilnius and Odessa (Ukraine). Over the past 18 years, the company has developed more than 50 games for different platforms and generated more than 500 million downloads worldwide. The biggest hit of the studio to date is Cooking Fever, a time management game where players cook meals and desserts from around the world. The game has over 350 million downloads and 10 million active users per month. Nordcurrent Labs on Twitter
ABOUT FLYANVIL
FlyAnvil is an independent game development team. Our team currently consists of two brothers who are childhood fans of computer-based gaming. One is the Lead Programmer and the other works as the Lead Artist. We are a pair of hard-working and committed independent game developers who form the game development company known as FlyAnvil. As the sole developers of FlyAnvil, we are responsible for the software code, visual content, art, sound, and design that goes into all of our projects. At the beginning of our creative career, we used to create small flash games that could be played for free on all the relevant gaming portals. We have been developing games since 2009. Furthermore, the Decision Series has been given many awards for its continually remaining a highly rated game. In 2020 we were joined by guys who formed a team of screenwriters. The Decision universe has now been given a detailed description of the game world and lots of interesting backstories for the new game!