Solve puzzles using ingenuity and stealth in an exquisite adventure featuring point-and-click, minigames and more
Vilnius, Lithuania – 12 August 2021 – Perelesoq and Nordcurrent are honoured to announce that their poignant war story Torn Away will release on Steam this Winter. Set in WW2, the game is inspired by the diaries of children, written during the war, and uses various gameplay mechanics to create an immersively moving experience that chronicles the hardships of Europe in the 1940s and allows the player to explore a familiar setting in a new light.
Torn Away combines a variety of genres while exploring the tale of Asya, a lost orphan who escaped from a forced labour camp and has to cross the wintry wilderness of Germany and Poland to make her way back home. You will have to persevere through the harsh elements of nature, solving puzzles and engaging in a variety of different types of gameplay to hide from soldiers, look for shelter and food and survive to see your home once again.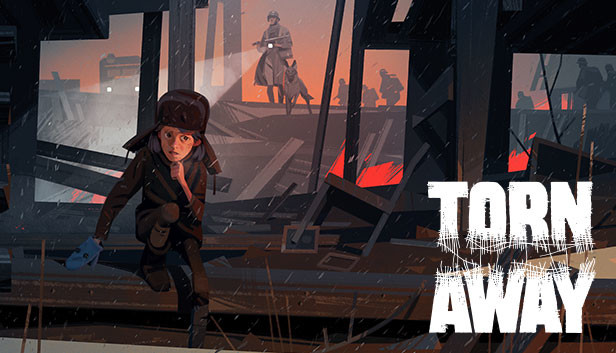 Exploring themes around the consequences of war and the effect these tragedies can have on children and other non-combatants, Torn Away hopes to change the dialogue about war and nationalised violence.
"Our goal as a studio is to captivate our audience with thoughtful storytelling, beautiful visuals and expressive music. We want to use this incredible interactive medium of games to explore important stories from history and give players a more pensive and empathetic experience," said Artem Koblov, creative director at Perelesoq. "Torn Away is more than just a game, an entertainment product; it is a unique way to understand the tragedies of war from a child's perspective. We are proud to announce that Torn Away is coming this Winter and we are looking forward to sharing it with you."
More information on Torn Away:
Add Torn Away to your Steam wishlist:
https://store.steampowered.com/app/1568970/Torn_Away/
Follow the Torn Away on Twitter: https://twitter.com/TornAwaygame
Follow Perelesoq on Twitter: https://twitter.com/perelesoq
Follow Perelesoq on Instagram: https://www.instagram.com/perelesoq/
Visit the Perelesoq website: https://www.perelesoq.com/
About Perelesoq
Perelesoq is a small game development studio based in Moscow, Russia. We came together to tell people emotional stories with video games vocabulary. We don't try to make super popular entertainment products that will be loved by everyone. Instead, we are focused on captivating those who value thoughtful storytelling, authentic visuals and expressive music.About Nordcurrent
Nordcurrent is a developer and publisher of games for smartphones, tablets, laptops and PC which was established in 2002 with headquarters in Vilnius, Lithuania. Nordcurrent has two development studios in Vilnius and Odessa (Ukraine). Over the past 19 years, the company has developed more than 50 games for different platforms and generated more than 500 million downloads worldwide. The biggest hit of the studio to date is Cooking Fever, a time management game where players cook meals and desserts from around the world. The game has over 350 million downloads and 10 million active users per month.
Nordcurrent Labs on Twitter.