Speedrun for your life from deadly creatures and traps in exotic locations inspired by Balinese mythology
Cologne, July 29th, 2021 – Headup and Xelo Games are excited to announce that the first-person survival platformer, Escape from Naraka, will be available on Steam today for $ 14.99 / € 14,99 / £ 11.99 including a 10% release discount. Set in a nightmarish Balinese temple, Escape from Naraka will test your platforming and parkour skills through a wide range of challenges, obstacles, enemies, and trials scattered across a wide variety of stages.
 
To make navigating this hellscape more manageable, the protagonist has access to unique abilities, which curious players can also use to discover a plethora of secrets. While Escape from Naraka was inspired by games like SEUM: Speedrunners from Hell, Dark Deception, and DOOM, the team at Xelo Games decided to give it a special touch by using 3D scan technology to incorporate real life artifacts, various art from Balinese mythology as well as real temples, and also used traditional Balinese instruments for composing the soundtrack.

"We're really happy that the game is out in the wild and can't wait for players to jump into the full experience!", said Irfan Sarwono, Game Director at Xelo Games. "The demo version already attracted a big number of highly skilled players, so it's going to be really exciting to see how fast they'll be able to run through the levels and find different routes that will help them achieve better times."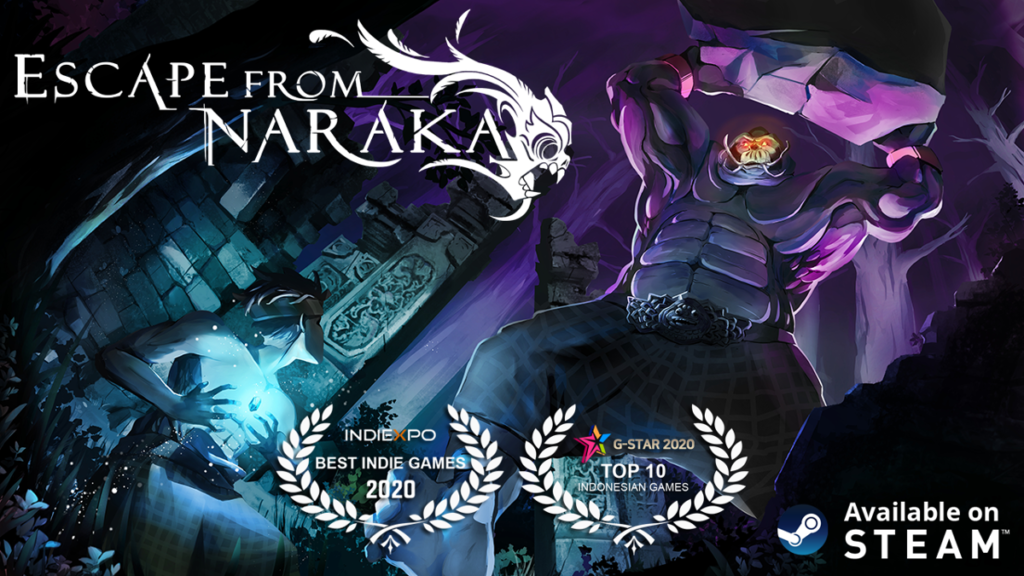 For more details, check out the official Steam page and the official release trailer: https://youtu.be/vcxvuUpL_fQ

You can find more info about the game and its developers on their Twitter page, and feel free to discuss the game with them on Discord.

Also, don't miss the awesome Escape from Naraka soundtrack – many traditional Balinese instruments were used to create its distinctive style! You can find it at this Bandcamp link from tomorrow at 5PM CET / 8AM PST.

Press Kit | Release Trailer | Nvidia RTX Trailer | Trailer Downloads
---
About Escape from Naraka

Escape from Naraka is a first-person survival platformer with rich Balinese world-building. Taking huge inspiration from Balinese legends and local mythology, the game tasks you with platforming your way through a nightmarish temple. Every level will challenge you in a new and exciting way, with several themed stages, each with their own trials to complete. You will have to master the arts of dodging and timing to survive!
 
FEATURES INCLUDE:
Exotic Balinese themed levels full of platforming challenges, traps, and dangerous encounters
Your path to freedom will be blocked by terrifying enemies that stand your way
Unique abilities which are essential for your successful escape
Lots of secrets to uncover for eagle-eyed explorers
Leaderboards for each level and one for the complete run so you can see how you fare against others
Unique cultural world-building using real Balinese artifacts and 3D scan technology
RTX support: Ray-traced shadows and reflections, NVIDIA DLSS, RTX Global Illumination
Razer Chroma support
---
About Headup
Headup is a hybrid games publishing and development company providing players worldwide with the best content in the independent gaming sector. Established in 2009, it is active on all major platforms such as consoles, mobile devices and PC, and was awarded as "Best Publisher" at the German Developers Awards in 2012, 2013, 2017 and 2019. With over 80 million customers served on mobile and further several million players on the PC and consoles, Headup is always looking to raise awareness and commercial success for developers thinking outside the box. More information can be found at www.headupgames.com and twitter.com/headupgames.
About Xelo Games
Xelo Games is a team of three indie game developers, located in Yogyakarta, Indonesia. Before it was founded, members of the team worked in European studios on AAA titles like F1 and GRID, among others. Escape from Naraka is the first game to be launched by the independent studio, and there is much more to come. Please find more information on twitter.com/XeloGames and xelodigital.com. 
---
For further inquiries please contact:
Gregor Ebert
press@headupgames.com
+49 2421 48 68 703 (Germany)
Headup
Copyright © 2021 Headup GmbH, All rights reserved.