Only The Power Within Can Help You Escape— Unleash the Magic with Kunjee Studio's Brand New Puzzle Action Adventure for the NES Launching Today on Kickstarter.
Pittsburgh, PA (Aug 17th, 2021) – Kunjee Studio — a group of veteran indie developers from Brazil and creators of GO Mikura GO — in partnership with Mega Cat Studios, today announced the long-awaited Kickstarter launch of their brand new NES I.P Roniu's Tale! Bringing a re-imagined take on classic retro action-puzzlers, Roniu's Tale honors the classics of yesteryears with beautiful 2D graphics, cross-dimensional pixel-immersive mechanics, and danger at every step. Roniu's Tale will be launching on the Nintendo NES and the demo will be featured in Evercade's Mega Cat Collection 2 this August 27th. To celebrate, MC Apex, A.K.A Stony Starx will be releasing a Roniu's Tale spoken word rap to commemorate the moment! Unleash the power within! Roniu's Tale submerges us in a magical world of phantoms, sorcery, and mayhem! Featuring single-player, puzzle-driven action, the game offers a horde of enemies with one goal in mind: keeping you trapped. Players must help Roniu collect all orbs and keys while navigating confusing and crumbling pathways in a bid for freedom. The dungeon is daunting, but with the help of a friend and the power within – Roniu might just escape.
 Ready to Enter the Magic Dungeon?
Back Us On Kickstarter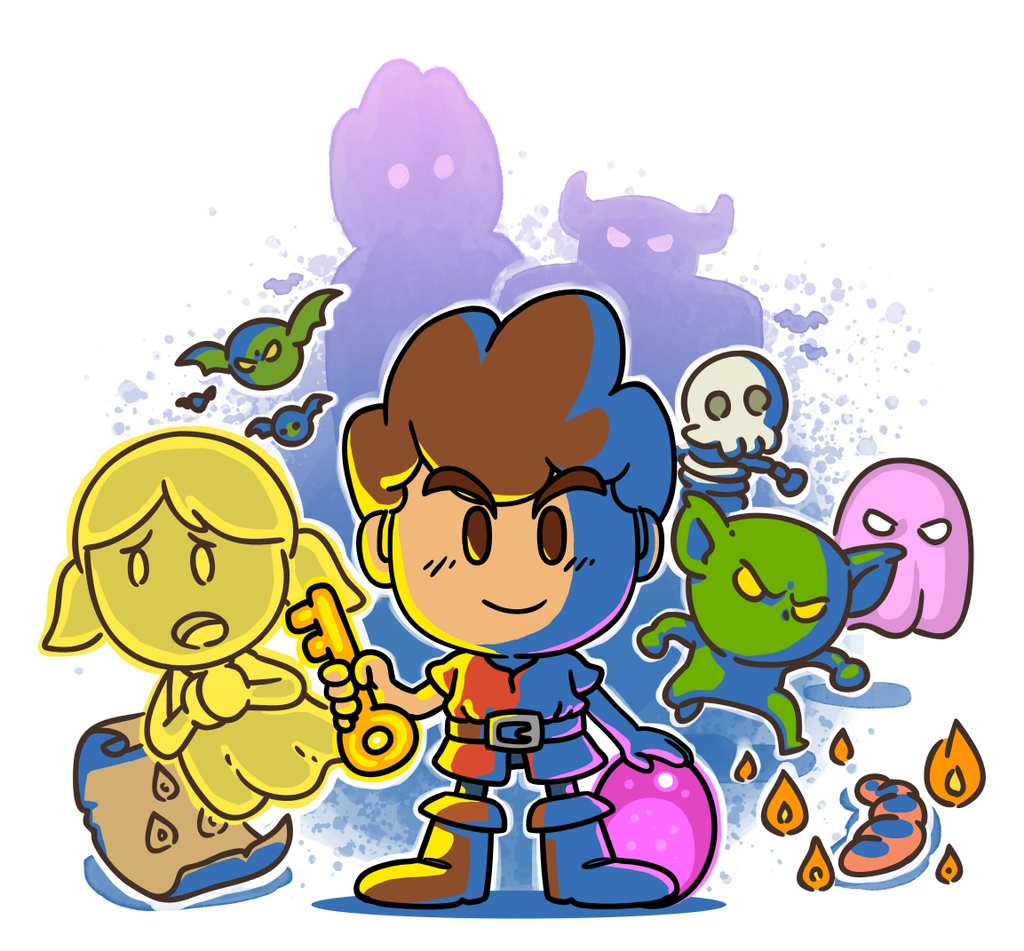 Download The Demo "Kunjee Studios is proud to be part of Brazil's indie gaming community. As people of color, and true retro fans, we are excited to share our last year's work!", said Roniu's Tale Game Designer and Producer Rafael Valle Barradas."Backers will be thrilled with the selection of exclusive rewards for those that help fund the project, and we have some amazing events in store," said Mega Cat Studios Community Manager Monica Figueroa, "Options on offer include the OST on vinyl, a one of a kind Roniu's Tale prologue comic book – supporters can even choose to have a custom animated character next to their names in the credits. There's something for everyone in this nouveau retro-classic in the making!"Inspired by games puzzle classics Solomon's Key and Solstice, Roniu's Tale has players step into the shoes of Roniu, a bored young magician eager for any kind of excitement. Drawn like a moth towards a shining light beyond the walls of his city, Roniu falls into a magical dungeon that has yet to release a single prisoner. Players must utilize logic and magic skills to defeat mystical enemies, overcome bosses and avoid the pitfalls of subterranean landscapes! With 43 mind-bending, brain-scratching levels – you'll need everything you've got to find your way out!
 Upon successful completion of their $15,000 Kickstarter goal, Roniu's Tale will launch first on the Nintendo NES —and with the help of backers and the community like you— will be ported to the Nintendo Switch. Upcoming campaign events will be announced shortly! About Kunjee StudiosKunjee Studios was created in 2019 with one goal in mind: bringing retro games to life. With decades of combined experience, they are a group of passionate industry veterans looking to create brand-new IPs for consoles we've come to love.
 Be first to hear new developments and follow Kunjee Studios on Facebook, Twitter, and Instagram.
About Mega Cat StudiosMega Cat Studios is an independent video game development and publishing studio with a global team. At their core, they are passionate game developers and artists who seek to create meaningful experiences through their games and services.
 To stay up-to-date on all things Mega Cat Studios and retro-pop culture, follow on Facebook, Twitter, and Instagram.
About MC Apex A.K.A Stony StarxMC Apex A.K.A Stony Starx (Zachary Girgenti) is passionate about video games, writing, mycology, music, and experiencing the world through nature and art. Follow him on Twitter if you are interested in checking out his other upcoming projects.