Legendary vehicles such as Party Wagon, Snoopy, K.I.T.T. and the Back to the Future Time Machine join the race, along with cars from Audi, Honda, Koenigsegg, Ford and many others
Larkspur, Calif. (July 26, 2021) – Mattel and Milestone, a leading global racing game developer, today unveiled a massive garage full of cars that will be available at launch in Hot Wheels Unleashed™. Featuring 66 vehicles at launch, including Hot Wheels®' most celebrated original designs over the brand's 53-year history, the lineup also includes cars that have become icons of automotive pop culture, such as "Party Wagon" from Teenage Mutant Ninja Turtles, "Snoopy" from Peanuts, "K.I.T.T." from NBC's Knight Rider, and the "Time Machine" from Universal Pictures and Amblin Entertainment's Back to the Future.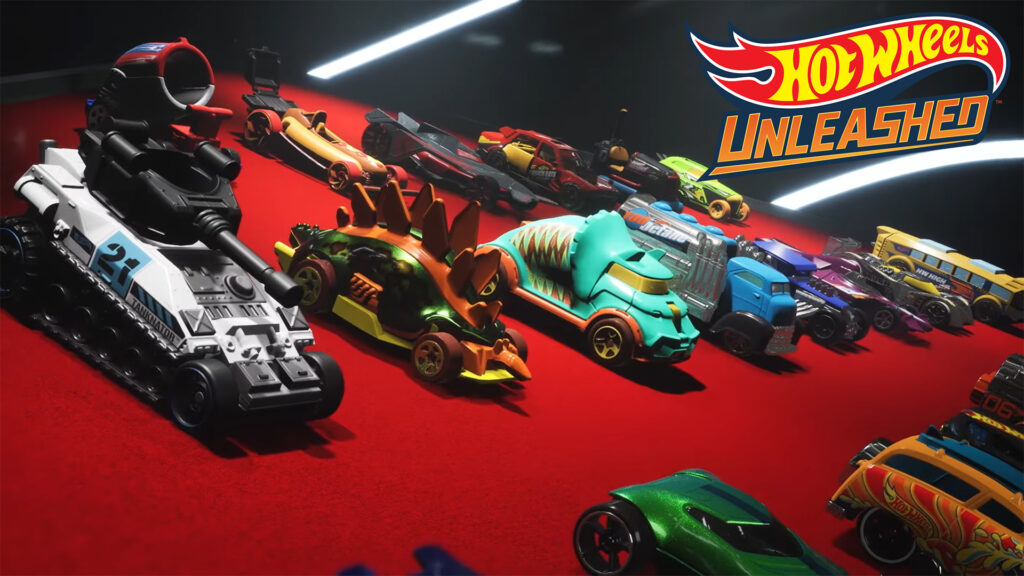 View the official Trailer on YouTube – https://youtu.be/efKWpOzF8jc
 For those players looking to get behind the wheel of their favorite vehicles found on today's city streets and racetracks, diecast favorites will be featured from original manufacturers representing the past, present, and future of car culture. From classic rides such as the 1932 Ford 'Deuce' and the 1969 Dodge Charger, to modern favorites including the Audi R8 Spyder and Honda S2000, plus hypercars packed with future technology such as the 2020 Koenigsegg Jesko – there is truly a ride for everyone.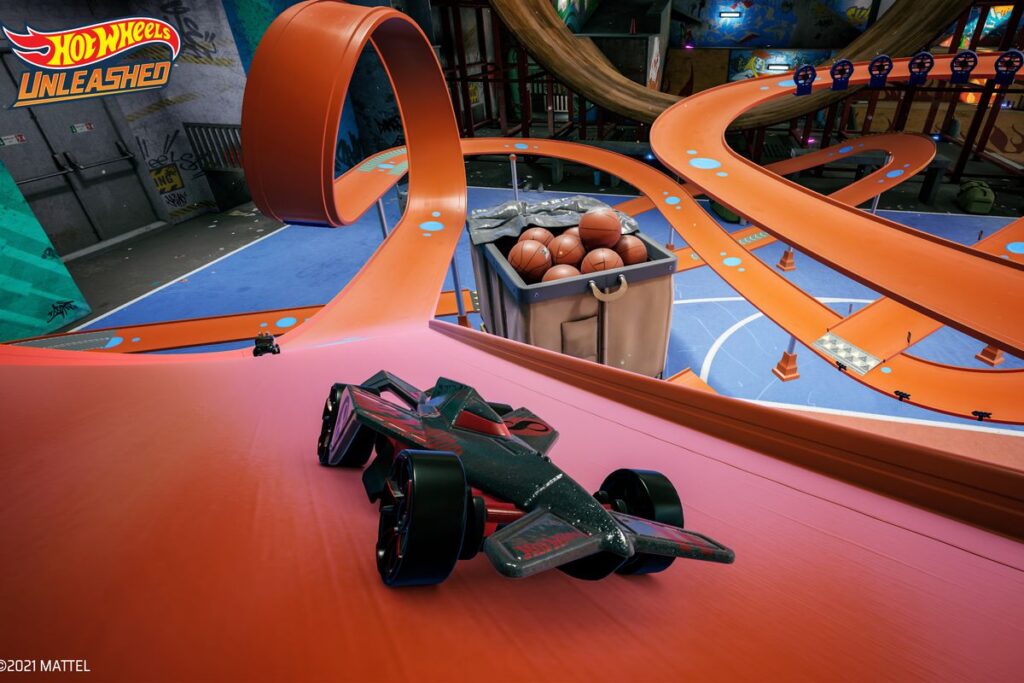 Additional vehicles will be made available by playing Hot Wheels Unleashed across all its different game modes. Hot Wheels Unleashed launches globally on September 30, 2021 on PlayStation®5, PlayStation®4, Xbox Series X|S, Xbox One X, Xbox One, Nintendo Switch and PC (Steam and Epic Games Store). Pre-orders are available at https://hotwheelsunleashed.com/.
 In addition to Hot Wheels originals like "Boneshaker" and "Twin Mill," below are some of the cars fans can drive to their heart's content at launch:
Entertainment IP cars:
TMNT Party Wagon
Snoopy
K.I.T.T.
Back to the Future Time Machine
Batmobile
Original Manufacture cars:
Audi R8 Spyder
Audi Sport Quattro
'55 Chevy
Copo Camaro
'71 El Camino
'69 Dodge Charger Daytona
RAM 1500 Rebel
FIAT 500
'32 Ford
1956 Ford Truck
2018 Ford Mustang GT
Humvee®
Honda S2000
2020 Koenigsegg Jesko
Mini Cooper S Challenge
Hot Wheels Unleashed players will be able to upgrade vehicles using the in-game Rarity System. With the Rarity System, players will be able to collect and dismantle in-game vehicles in order to improve how their vehicles perform. Some upgrades can only be discovered in unique and secret ways.
  For more information and where to pre-order, visit hotwheelsunleashed.com. Drivers can also join the #HotWheelsUnleashed conversation online at Facebook, Instagram, YouTube and Twitter.
 
About MattelMattel is a leading global toy company and owner of one of the strongest catalogs of children's and family entertainment franchises in the world. We create innovative products and experiences that inspire, entertain and develop children through play. We engage consumers through our portfolio of iconic brands, including Barbie®, Hot Wheels®, Fisher-Price®, American Girl®, Thomas & Friends®, UNO® and MEGA®, as well as other popular intellectual properties that we own or license in partnership with global entertainment companies. Our offerings include film and television content, gaming, music and live events. We operate in 35 locations and our products are available in more than 150 countries in collaboration with the world's leading retail and ecommerce companies. Since its founding in 1945, Mattel is proud to be a trusted partner in empowering children to explore the wonder of childhood and reach their full potential.
About MilestoneFounded in Milan in 1996, Milestone S.r.l. is one of the leading and longest established racing game developers in the world. The 200+ people team is responsible for hit series like MotoGP™, MXGP and Monster Energy Supercross – The Official Videogame, as well as RIDE and Gravel, Milestone's own IPs. For more information, please visit www.milestone.it
 HOT WHEELS UNLEASHED™ © 2021. Published and Developed by Milestone S.r.l. All rights reserved. HOT WHEELS™ and associated trademarks and trade dress are owned by, and used under license from, Mattel. ©2021 Mattel. All manufacturers, accessory suppliers, names, tracks, sponsors, brands and associated imagery featured in this game are trademarks and/or copyrighted materials of their respective owners.
 Nintendo Switch is a trademark of Nintendo.PlayStation is a registered trademark of Sony Computer Entertainment Inc. All rights reserved. Back to the Future © 2021 Universal City Studios LLC and Amblin Entertainment, Inc. All Rights Reserved.Knight Rider © 2021 Universal City Studios LLC. All Rights Reserved.
About Koch Media The Koch Media Group is a global developer, publisher and distributor of video games, VR games, gaming hardware and merchandise. The group's publishing activities, marketing and distribution extend throughout Europe, America, Australia and Asia. Koch Media has more than 25 years of experience in the digital media business and has risen to become a leading global publishing partner. The Koch Media Group runs a multi-label strategy with fully owned publishing units such as Deep Silver, Milestone, Vertigo Games and Ravenscourt, publishing games for consoles, PC and VR platforms across all physical and digital channels. 
 Additionally, as global publishing partner Koch Media has formed long-term multi-national publishing collaborations with numerous game publishers including Activision Blizzard, Bethesda, Capcom, CI Games, Giants Software, Kalypso, Koei Tecmo, Konami, Paradox, Sega, SNK, Square Enix, Techland, Tripwire, Warner Bros, and many others. With its parent company in Höfen, Austria, and the Publishing HQ in Munich, Germany, Koch Media owns local publishing companies in Germany, UK, France, Spain, Italy, Sweden, the Netherlands, Austria, Switzerland, Poland, Australia, the United States as well as Japan and Hong Kong. 
 The Koch Media Group owns nine game development studios: Deep Silver Volition (Champaign, IL / USA), Deep Silver Dambuster Studios (Nottingham / UK), Deep Silver Fishlabs (Hamburg / Germany), Warhorse Studios (Prague / Czech Republic), Milestone (Milan / Italy), Voxler (Paris / France), Flying Wild Hog (Warsaw, Kraków, Rzeszów / Poland), Free Radical Design (Nottingham / UK) and Vertigo Games (Rotterdam /The Netherlands). Additionally, the Koch Media Group collaborates with numerous independent development studios around the world.
 Part of the Koch Media Group is also Koch Films, a leading European independent film distributor with business primarily in Germany, Switzerland, Austria and Italy as a cinema, TV, online and Home Entertainment distributor. The Koch Media Group also owns Gaya Entertainment, a leading video game merchandise company in Munich, Germany, and the Quality Assurance Facility in Olomouc, Czech Republic. Koch Media is an Embracer Group company.