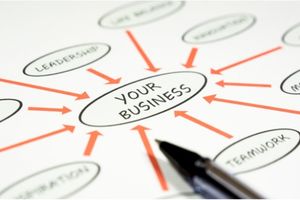 Your business & success depends on an organized plan of action. Here are 5 easy tips to whip your daily business habits into shape.

1 DEDICATED SPACE
Make space just for your business. Whether it a card table in a closet or an entire home office, you need to make a space that is dedicated for business only. This will help you feel like you are going to work and not just working from home. Also you will keep everything in one place it will be easier to keep organized.
2 BOOKKEEPING
Receipts and finance records can be your worst nightmare when running your own business. If you do not stay on top of this aspect of your professional life it can get away from you fast. Create a system that works for you. You can use a ledger or spread sheet to track your data or you can buy an already built workbook like the one from Colorvale. Keeping track of this from the start will only make things easier for you in the long run. You should probably get in the habit of updating these records at least once a week.
3 AUTOMATION
Once a month I take an entire day to schedule everything I need to post on social media. I do not do this haphazardly. It is very structed. You see to engage your audience you need to balance tips, questions, ads, humor, inspiration and the real you each day. So many times we think of social media as a place to market ourselves but we fail to see the most effective way to do that. Marketing isn't about an add. It's about becoming a resource and place for your target audience to want to be. Because then you are visible and when you are visible and when you are visible you have a platform
4 CREATE A WORK FLOW
There are many methods of keeping all this straight. You want to keep pertinent information where you can find it easily. Names, phones numbers. etc But also client communication. Did you offer a discount? Wwas the client reffered by someone? There is a lot to keep track of. Same goes for workflow. After you have taken the beautiful pictures wha'ts your next step? Did you back them up? Did you create a signature edit you want to use again in the future? Create a list of each step that you take and check them off when they are done. Keeping your client information and workflow doesn't have to be difficult. Colorvale. makes a bound Workflow and Session Organizer that does just that all in one place.
5 PLANS, GOALS AND DAY-TO-DAY
Somewhere you should have written/typed out your business plan and within that a marketing plan. Your business plan should include things like a description of your company, an analysis of market (who else is doing what you are doing?), what type of services or products you will provide, etc. Your marketing plan should be part of your business plan and help you develop systems to build your reputation in your market. This should include more than just advertising campaigns. Other ways to market yourself include social media, referral programs and customer loyalty programs. Knowing how you want to run your business and what you want to give your client will help you to be intentional in your actions and create a guide for you to follow. We suggest you set realistic goals you want to meet and give yourself specific deadlines to meet them.