Office 365 is a Microsoft cloud-based service that effectively combines cloud-based services such as business emails, shared calendars, file sharing, instant messaging and video conferencing with the conventional Microsoft Office desktop applications. It is designed to be easily accessible and can be used across multiple devices giving your employees the work flexibility they need to produce better and more collaborative results.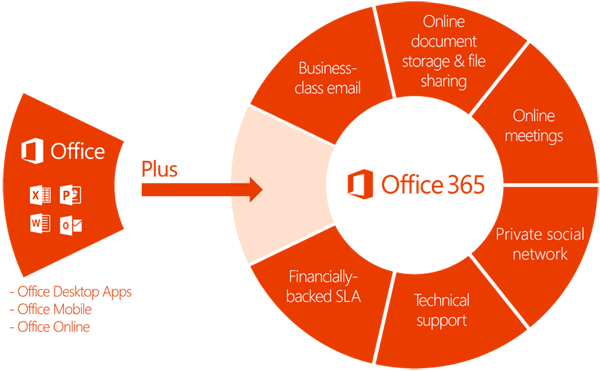 Business Impact
The impact of utilising Office 365 for business is rife with advantages. Your business gets enterprise-grade tools without having to invest on multiple infrastructure components. Other benefits of Office 365 are:
Accessibility from anywhere there is an internet connection with a guaranteed 99.9% uptime guarantee
Management and maintenance e.g. application of patches, updates and background upgrades are handled by Microsoft
Enhanced and seamless internal communication with video conferencing and instant messaging capabilities through Lync
Cost effective with flexible Office 365 business plans that could cater to every sized business
Seamlessly integrates with Microsoft Office and other Microsoft applications and programs
Improves operational agility and mobility by allowing users to access Office 365 across multiple devices
Companies who have made the move to the cloud and Office 365 have seen a substantial growth in productivity among its workforce. Privacy, security and disaster recovery concerns are also efficiently addressed and expertly handled by Microsoft themselves offering business owners the opportunity to refocus on core business operations more relevant to revenue generation.
Additionally, what's great about Office 365 is that even when it is used across multiple devices, you always get the latest version with consistent formatting. Imagine being able to access any Office 365 document using any device in the same format as if you were viewing it from a desktop or laptop device. And with the way it is set up, collaboration with other people is highly achievable. With Office 365 you also get business class email that gives 25GB user mailboxes and allows 25MB file attachments, that is easy to use and allows the sharing of calendars and contacts across devices.